I attended the Augmented World Expo 2013 (AWE).  This event provided a meeting point for augmented reality hardware manufacturers to software SDK developers and from app developers to robotics uses of AR and was held in the Santa Clara Convention Centre in California.
At the event Nic Doodson and I (Will Powell) presented Keytree CEO Vision within the business side of presentations. We presented just after Aiaz Kazi from SAP. Keytree's CEO Vision, for which I was lead developer on, demonstrates the real possibilities for 'Minority Report' like interfaces as they become commonplace and has since been multi award winning.
The event also provided me with a chance to look at the emerging technologies to the market in this rapidly expanding field. Here are just some of the technologies I tried: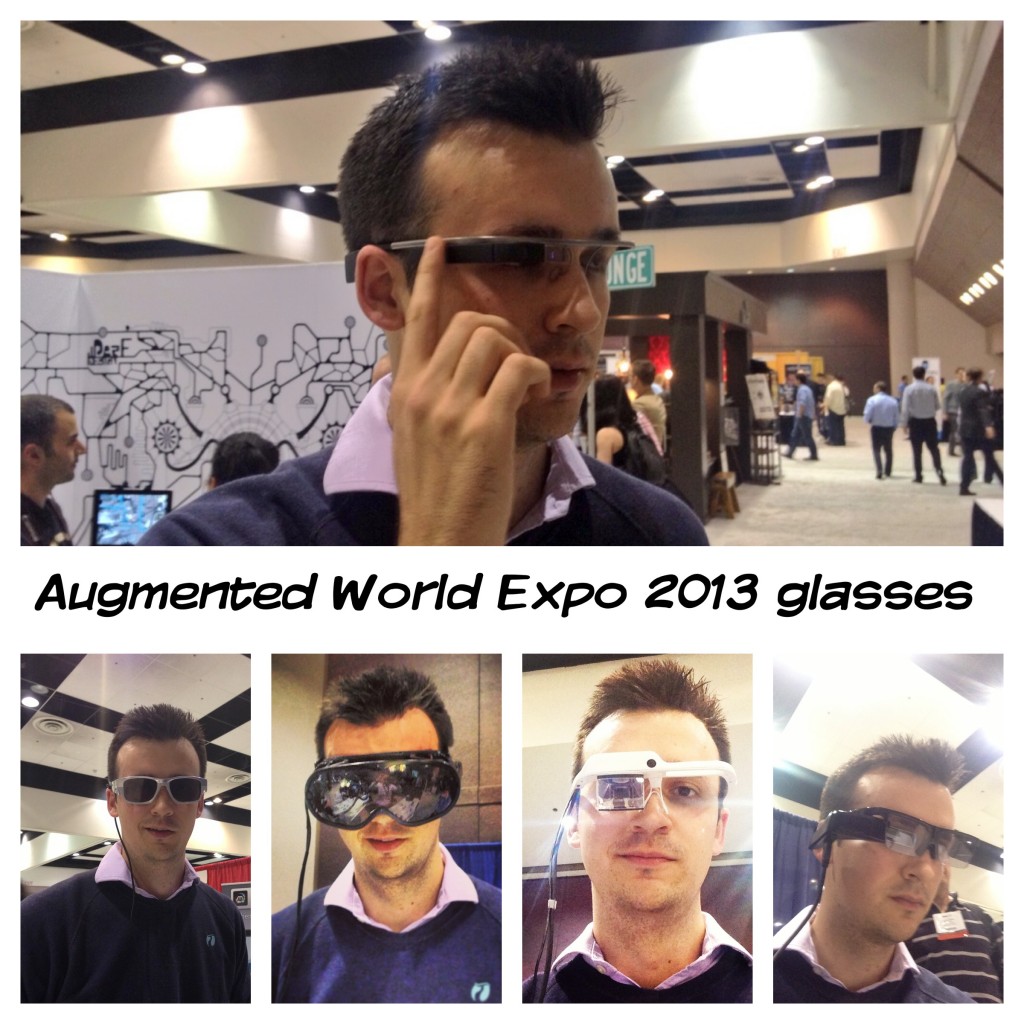 Google Glass – This is definitely one of the products with the most buzz around it. It has a brilliant build quality and it is understandable that this is only in developer's hands because the functionality needs to be extended in order to be more consumer facing. However combining this with our expertise, we can deliver enterprise applications on this kind of device.
GlassUp – A neat product with a great price point. Only a single monocular display where a small amount of the glass shows a projected image in monochrome, but very lightweight and unobtrusive. This will be on Kickstarter shortly.
Laster Technologies – There are several products created by Laster Technologies, which were very impressive with the quality of the display screens. I was impressed especially by the contrast with the lit and non-lit areas of the screen. It made the marker-less experience very compelling for the ski goggle's solution. I look forward to seeing the binocular version of the monocular glasses as well.
Vuzix Star and M100 – are both products we have been tracking with our concept video earlier in the year for the M100 and our use of Star 1200 XL and XLD are great additions to the line up.
Epson Moverio BT-100 – aside from being quite bulky give a good display and with the compact Android power unit are very portable and require no additional processing as the other glasses from Laster and Vuzix do.
Alongside these hardware manufacturers there are the software creators such as Vuforia and Metaio, which were showing off some very impressive demos.
Overall AWE2013 was a fantastic event to both view and demonstrate AR concepts, software and hardware, which left excitement and anticipation of what's coming next.