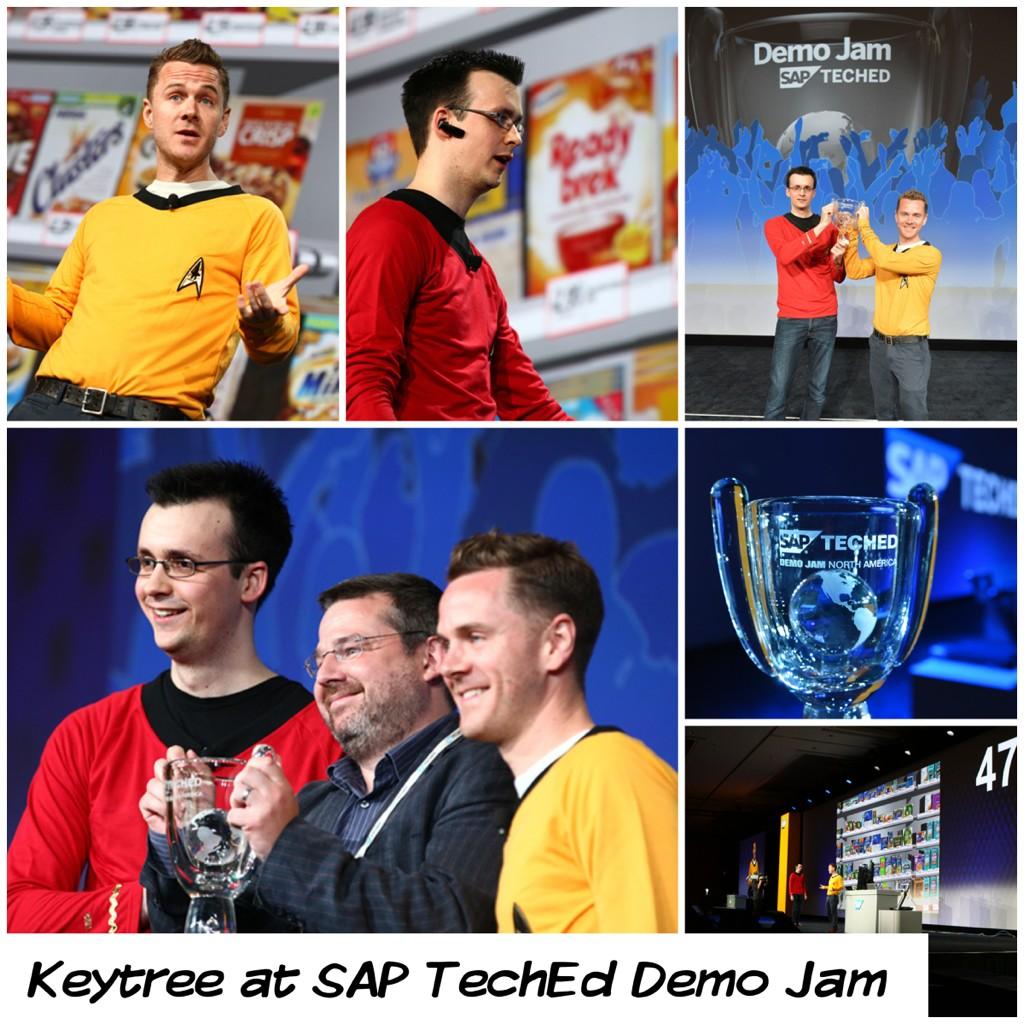 Earlier this week Nic Doodson, Dan Mcnamara and I, representing Keytree, headed over to Las Vegas to participate in SAP TechEd Las Vegas. This was held in the Venetian Resort, the largest hotel in the world (largest hotels wiki) and was a phenomenal event to be involved in. I had the opportunity to share with Dan our experiences of using SAP NetWeaver Cloud and SAP HANA to an audience in Lounge 1 on the show floor, exhibit CEO Vision in Vishal's Q&A session after the Keynote with Nic, compete in DemoJam with Nic showing Store Trek, attend sessions about the latest SAP innovations and much more.
It all started when we entered Store Trek into DemoJam and it was accepted for Las Vegas. All of our kit was packed up and flown out to Vegas to show off our new concept of shopping backed by SAP NetWeaver Cloud and SAP HANA Cloud.
On arrival we setup the kit in the hotel suite to run through the presentation and to check all kit survived the flight. This is actually a perfect implementation idea for Store Trek where it is embedded as a shopping experience  in your home or hotel room. During the kit check I was able to order my next week's groceries for when I returned to the UK.
On Tuesday morning we performed CEO Vision in Vishal's Q&A and showed a section of what that system can do, demonstrating the power of SAP HANA in the Cloud and SAP NetWeaver Cloud as well which the backend has now been moved to from a SAP HANA instance.(Click here to watch CEO Vision)
Tuesday we had rehearsals with all the other Demo Jam contestants and made sure everything was ready for the evening's performance. I would like to thank Bill Buxton and all of the production team who made it possible for us to deliver our demo in such an incredible way. The Demo Jam itself was an amazing experience  with the opportunity to watch the other acts. It was a really tough competition and some great technologies. Here is our performance in full:
We won SAP Demo Jam, in a very close competition with a lot of fantastic technologies being shown and some truly inspiring teams.
On the following day, I did an interview with Gigi Read on TechEd Live see below (Nic was unfortunately already on a plane back to the UK) watch it here
As I said in the interview with Gigi we are now gearing up our update to CEO Vision for Madrid TechEd and are really looking forward to it.