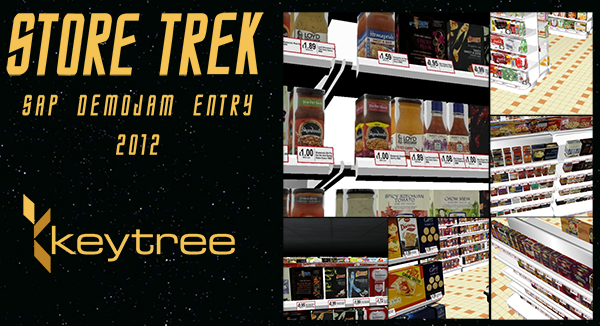 At Keytree we have created a new application called Store Trek that delivers a 3D shopping experience in your home using the microsoft Kinect.
Powered by K-Motion Store technology. This is the first incarnation of a 3D store that crosses the divide between in store and online shopping. Online is quick and convenient and products are recommended to you but the experience is not very engaging or immersive. In store you can see entire product ranges but they are not tailored to you, you have to travel to the store and get stuck in the queue at checkout. Store Trek takes the benefits of in store by delivering tailored virtual shelves in a virtual store layout driven by a personalisation engine you would have with an online store.
The kinect allows you to walk round the TV with the shelves automatically adjusting to give you the rich 3D experience. Rendering tens of thousands of products from real retailers in realtime you can purchase items by reaching out towards the shelf and the product will be added directly to your basket.
This eCommerce solution based in the cloud could be used to shop for your groceries from Tesco or items from Amazon or Ebay.
Update: Store Trek was featured in Marketing Magazine click here to see the article
Update: Store Trek has also been featured in the independent click here to see the article the supermarket experience where you never have to queue.