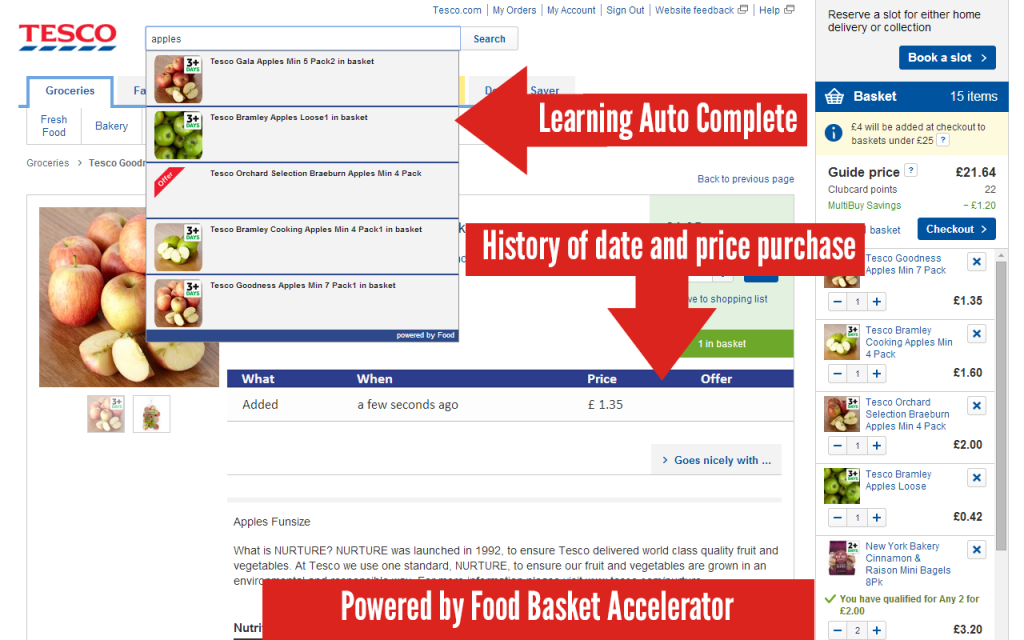 I am a fan of really great UI and functionality and wanted to add features such as autocomplete and showing me my purchase history right on the product page of when I bought it and for how much. To do this I have created a chrome extension called 'Food Basket Accelerator' that provides these features. Here is some more details:
Autocomplete for Tesco.com – The extension pulls the products that are important to you and auto suggests them based on what you have typed and their priorities. The importance of the products is calculated based on a number of metrics so it will get more accurate over time.
Product purchase history for Tesco Groceries – When you have previously added a product to your basket you will then see it within the tesco.com website product details page. It shows you how long ago you purchased it, how much and what promotions were running. In short it gives you a better experience and more informed decision into making a purchase.
All of the data that is compiled by this app remains on your own machine. It is not recorded on a server anywhere and it's primary and sole purpose is to help you with your Tesco Online shopping.
Get it now from the chrome webstore here