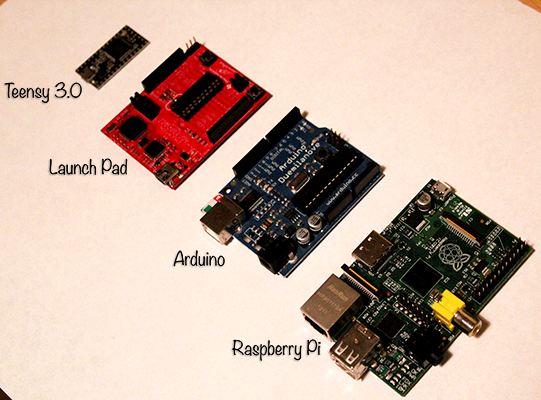 Over the past year or so there has been an explosion of electronic development boards so you can build your own DIY projects and feed the hobbyists desires. I have been no exception and have quite a few boards including the Raspberry Pi, Arduino, LaunchPad from Texas Instruments and the latest addition of the Teensy 3.0. I have added a bit about each board and how I have used them.

Teensy 3.0
I have only just received my board so still have to solder the headers onto the board so I can easily use with a breadboard. I donated on Kickstarter and cannot wait to get started with this board.
Teensy 3.0 is a small, breadboard-friendly development board designed by Paul Stoffregen and PJRC.  Teensy 3.0 will bring a low-cost 32 bit ARM Cortex-M4 platform to hobbyists, students and engineers, using Arduino(R)** or programming directly in C language.
Based on a 32 bit ARM chip, Teensy 3.0 aims to greatly increase the computing capability and peripheral features, but maintain the same easy-to-use platform that has made Teensy 2.0 so successful. Find out more
LaunchPad
The MSP-EXP430G2 LaunchPad is an easy-to-use flash programmer and debugging tool for the MSP430G2xx Value Line microcontrollers. It features everything you need to start developing on an MSP430 microcontroller device. Find out more
Arduino
I really like the arduino board and have experimented quite a bit with this and really forms the core of the electronics DIY toolkit.
Arduino is an open-source electronics prototyping platform based on flexible, easy-to-use hardware and software. It's intended for artists, designers, hobbyists, and anyone interested in creating interactive objects or environments. Find out more
Raspberry Pi
The raspberry pi is a very versatile board and with the available connections is great to work with. One of the first things I did with it was connecting it to Vuzix Star 1200 glasses head up displays:
I have used these on several personal projects and then they formed the display drivers for the Project Glass Inspired Translation.
The Raspberry Pi is a credit-card sized computer that plugs into your TV and a keyboard. It's a capable little PC which can be used for many of the things that your desktop PC does, like spreadsheets, word-processing and games. It also plays high-definition video. We want to see it being used by kids all over the world to learn programming. Find out more
Size Comparison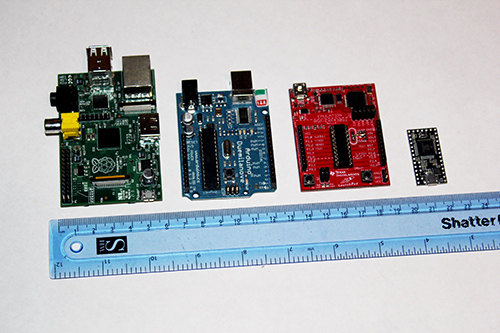 A few more images